Dena And Joanna Marini -- This Is The Day
---
My Comments: Dena And Joanna Marini call this recording their Wedding Song CD.
These people play music on the same harps that are made by their family. Their family makes their living building harps. Each harp they build is "hand crafted" and "custom made". The two oldest daughters, Dena and Joanna Marini, go to many different churches in their local region playing their harps. The younger members of their family also take part in their concerts by playing other instruments they are good at.
I found out about these recordings when their mother mailed me all of their current CD titles as "air play submissions" for Old Christian Radio. After hearing all their recordings, I decided to add all of them to my station's air play library. From there, I made these recordings available for purchase in my online music store. Until now, these recordings were only available for purchase at their concerts, by mail directly from them, or only from local bookstores where they live.
As you listen to their recordings (oldest to newest), you'll notice progressive improvement in their harp playing skills. Their harp playing skills in their earlier recordings are still very good.
---
The message inside the CD cover reads...
This Is The Day
Sue and I requested that this song be sung at our wedding back in 1980. It was special to us, not just because it had a pretty tune, but it spoke of truths and values we held dear: The sovereign intervention of God causing our paths to cross at just the right time in our lives, the permanence of marriage, the enduring commitment of love and faithfulness, regardless of circumstances, till death do us part. How blessed we are, 25 years later, to hear our own children play and sing This Is The Day as the theme song for this recording.
--Alex Marini
---
Dena(23), and Joanna (21), now graduated from their home school program, continue to develop their skills in music, and have made their own arrangements to the songs on this (their 7th) harp recording. They've included some vocal and other instruments to accompany the harp on this recording, but the harp is still the featured instrument.
Hi! This De and Jo. Lots of people have requested a wedding CD... so here we are, raising the flag of honor to God's beautiful institution of marriage. We hope these songs inspire love and loyalty.
Dena And Joanna Marini (As pictured on the back of the CD cover)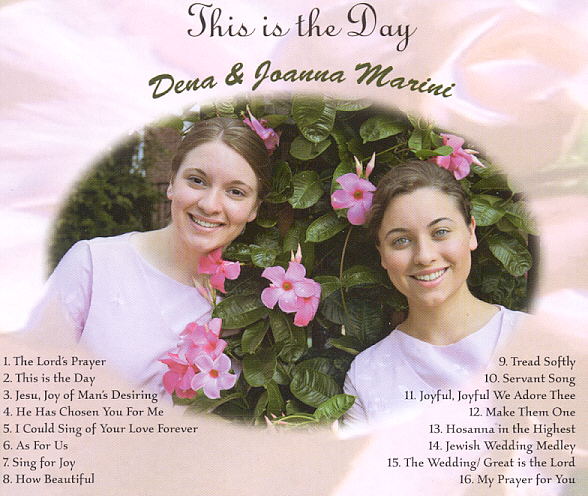 ---