Joanna Marini -- Thine Is The Glory
---
My Comments: This was Joanna's first piano recording. Johanna and Dena has done all their other recordings playing their harps.
About Joanna and Dena Marini...
Joanna and Dena Marini plays music on the same harps that are made by their family. Their family makes their living building harps. Each harp they build is "hand crafted" and "custom made". The two oldest daughters, Dena and Joanna Marini, go to many different churches in their local region playing their harps. The younger members of their family also take part in their concerts by playing other instruments they are good at.
I found out about these recordings when their mother mailed me all of their current CD titles as "air play submissions" for Old Christian Radio. After hearing all their recordings, I decided to add all of them to my station's air play library. From there, I made these recordings available for purchase in my online music store. Until now, these recordings were only available for purchase at their concerts, by mail directly from them, or only from local bookstores where they live.
As you listen to their recordings (oldest to newest), you'll notice progressive improvement in their harp playing skills. Their harp playing skills in their earlier recordings are still very good.
---
A Picture of Joanna Marini inside the CD insert...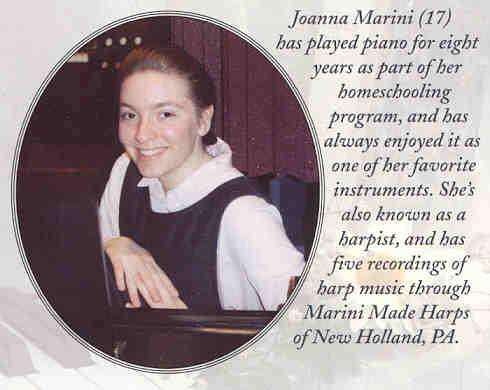 ---