Dena And Joanna Marini -- There Is A Fountain
---
My Comments: These people play music on the same harps that are made by their family. Their family makes their living building harps. Each harp they build is "hand crafted" and "custom made". The two oldest daughters, Dena and Joanna Marini, go to many different churches in their local region playing their harps. The younger members of their family also take part in their concerts by playing other instruments they are good at.
I found out about these recordings when their mother mailed me all of their current CD titles as "air play submissions" for Old Christian Radio. After hearing all their recordings, I decided to add all of them to my station's air play library. From there, I made these recordings available for purchase in my online music store. Until now, these recordings were only available for purchase at their concerts, by mail directly from them, or only from local bookstores where they live.
As you listen to their recordings (oldest to newest), you'll notice progressive improvement in their harp playing skills. Their harp playing skills in their earlier recordings are still very good.
---
The message inside the CD cover reads...
We've chosen "There Is A Fountain" as the theme song for this recording because it beautifully expresses the Christian experience. Consider the first verse: The sinner suddenly realizes his guilt of sin, the condemnation he deserves, and his own desperate inability to justify himself before his Creator. Then, he hears the good news:
There is a fountain filled with blood,
Drawn from Immanuel's veins;
And sinners washing in that flood,
Lose All their guilty stains
The sinner hears of others, sinners like himself, who fled to this fountain for cleansing from sin, such as the thief who was crucified next to Christ, and he knows that fountain in his only hope as well:
The dying thief rejoiced to see,
That fountain in his day;
And may I here, tho' vile as he,
Wash all my sins away.
Some time later the forgiven sinner looks back on his cleansing. He remembers the wounds his Lord suffered, the flow of blood that paid the legal penalty for his sin, and the divine love that motivated His sacrifice -- all else in life fades to insignificance when compared to this "redeeming love":
E'er since, by faith, I saw the stream
The flowing wounds supply,
Redeeming love has been my theme,
And shall be till I die;
The forgiven sinner looks forward to the day when his body of flesh, with all its perfections, will be laid to rest, and his inner man will be free to flawlessly worship his Saviour;
And when this feeble, faltering tongue
Lies silent in the grave,
Then in a nobler sweeter song
I'll sing thy pow'r to save;
Our prayer is that this song will become the experience of each who listens to this recording, that our GOd might receive the worship He deserves.

--Alex Marini
"How Great Thou Art" by Carl Boberg... This beautiful hymn was written in Sweden in 1886. It is found its way to Romania where the Rev. Juan Staneschi simplified the melody and was published first in America in 1954 by Dr. N.A. Woychuk in his book entitled "Making Melody." This arrangement is a thank offering to the Lord and may be used in any publication designed to honor Him, if this stement is appended. Copyright 1954 in "Making Melody" by N.A. Woychuk, Assigned to Alfred B. Smith. All rights reserved (Taken from "Living Hymns" P. 801)
---
Dena and Joanna, now 15 and 13, continued to progress in their harp playing as a part of their home school program. Their father also continues to develop his skill at harp building as a home business project that involves the whole family. We thank God for giving the girls the gifts and skill needed to develop their won arrangements to these songs without using sheet music.
Dena And Joanna Marini (As pictured on the back of the CD cover)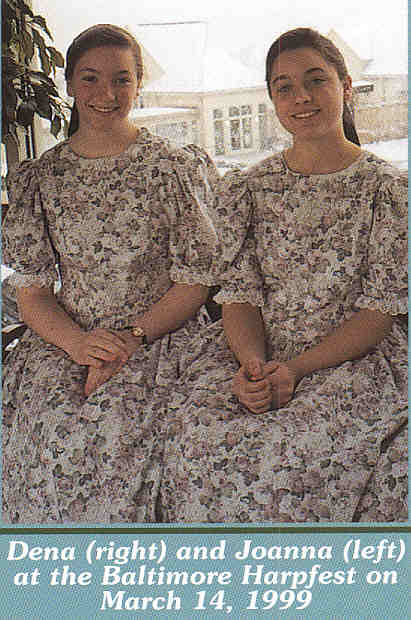 ---