Ron And Shelly Hamilton -- Times And Seasons (Choir Book)
Price: $9.95
Product#: 0779134-CB
Dimensions: CD
Released: 2003
Label: Majesty Music
Description: 12 SATB arrangements including the Easter Musical "The Easter Lily" by Ron And Shelly Hamilton

Also Available
Times And Seasons -- Vocal CD
---
Message Inside The Choirbook
Most of the numbers in this book can be sung at any time of the year, but I'm hoping this collection will meet a special need. As a church choir director, I am often faced with the problem of finding appropriate choir music for the "Special" Sundays of the year. It's always a challenge to come up with fresh material for Mother's Day, Father's Day, Memorial Day, Easter...those special "times and seasons" that every church celebrates.
The first five songs in the book were written especially for the Easter musical, The Easter Lily found on pages 121-128. Revive Us works well for revival meetings. You Were There and As For Me and My House are great for Mother's Day and Father's Day. Speak, Lord can be used for mission's conferences. I'm Gonna Sing is a song of thanksgiving. Well Done is appropriate for an anniversary Sunday of a church or pastor. America, Roll On can be used for any Sunday which requires a patriotic emphasis.
It can also enhance a service to find a special reading or poem to present before the choir number at these special times of the year. For example, at our church, I briefly recounted the story that gave me the idea for America, Roll on. It went something like this:
September 11, 2001, most of us remember it as simply 9-11, the day that terrorists attacked America with three of our own commercial aircraft. There was a fourth aircraft, United flight 93, that never reached its intended target because of the bravery of those on board. One of those was a Christian named Todd Beamer. When the terrorists took over Flight 93, somehow in the chaos Todd was able to call a phone operator and describe a little of what was transpiring aboard the ill fated airplane. As Todd spoke on the phone he obviously distracted, frantically trying to discern what he could do to make a difference in such a desperate situation. After reciting the 23rd Psalm and praying the Lord's prayer, his last audible words were, "Let's Roll!" Todd and some of his fellow patriots sacrificed their lives that day to protect the land that they loved.
A lot has happened since 9-11, but America is still in crisis. This great country of ours has flown her colors high for over 200 years, but there are those who want to bring her down...those who want to destroy our Christian heritage...those who seem to want to kill every trace of anything moral and godly that's left in America. The tragic thing is that many of us seem content to silently go down with the ship. Quite frankly, America is suffering from a lack of patriots like Todd Beamer--Christians who see the crisis, who pray an urgent prayer, and who then stand up and take action. Time is running out! That's why we must not forget Todd's final words to us, "America, Let's Roll."
Rejoicing in the Lord,
Ron "Patch" Hamilton
Picture Of Ron And Shelly Hamilton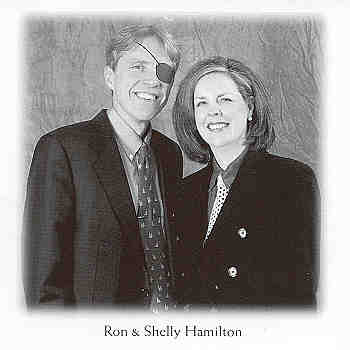 ---