Ron And Shelly Hamilton -- Lord Of All (Choir Book)
---
Message Inside The Songbook
As I look through the titles in this book, I'm struck with the thought that these songs represent somewhat of a spiritual diary of our walk with the Lord over the last year. Many of them are very personal and call to mind specific experiences that God has brought into our lives. Most of them are tied directly to a Scripture passage that the Lord has used to instruct us or encourage our hearts. We are especially delighted to present a stirring new song, Keep The Race Before Us, on page 14, written by our good friend, Carolyn Hamilton.
One very special feature of this book is that we have included everything necessary to present the Easter Musical, "I Saw The Lord". The script is found on page 116 and the music on pages 46-109. Only three readers are needed for the musical, making this program extremely easy to prepare. In our church, we sang the six choir numbers from the musical over the course of six Sundays leading up to Easter, therefore, no extra rehearsal time was needed.
We hope this volume will be a help to you in your ministry. God has certainly been teaching us much about Himself, and we've tried to share some of our blessing in this book. We pray that God will use these songs to glorify Himself--our loving, omnipotent, Lord Of All.
Rejoicing in the Lord,
Ron and Shelly Hamilton
Picture Of Ron And Shelly Hamilton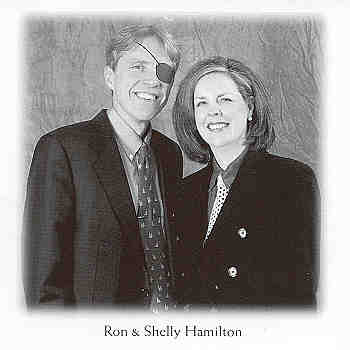 ---