Ron And Shelly Hamilton -- Glory Song (Choir Book)
Price: $9.95
Product#: 0779122-CB
Dimensions: 10" High x 7" Wide (Closed) [14" Wide (Open)]
Released: 2001
Label: Majesty Music
Description: 39 songs arranged in 10 SATB medleys including optional congregation participation and 8 calls to worship

Also Available
Glory Song -- Vocal CD
---
Message Inside The Song Book
We've tried a number of new ideas in Glory Song that we hope will be a blessing. Obviously, we've included a lot of songs (nearly 40!) in one book. The congregation can also participate in each medley. During the interlude which precedes the last song in each medley, the music director simply turns and faces the congregation, gestures for them to stand, and leads everyone in singing. The director should instruct the congregation ahead of time to watch him for their cue to stand and sing unison melody.
Most medleys have a brief musical ending which is sung only by the choir. Just prior to each ending, the choir director turns and faces the choir and leaves the congregation standing until the choir is finished. Of course, congregational involvement is optional, but we've found that most churches thoroughly enjoy this feature.
Eight "calls to worship" are also included in Glory Song. The accompanist's entry is indicated by and asterisk, and the choir entry is indicated by the words, "Call to Worship." The congregation does not sing along with the choir for these "calls to worship."
We pray that Glory Song will be a blessing to your entire church family. May God richly bless your ministry of music as you sing and serve to the glory of the Lord.
Ron And Shelly Hamilton
Picture Of Ron And Shelly Hamilton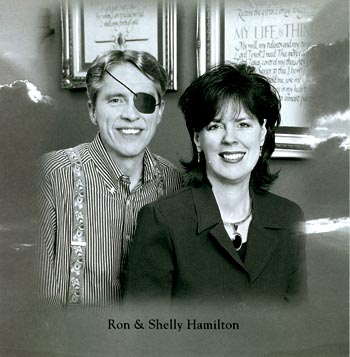 ---