James And Deanna Kahler -- Blessed Assurance
Price: $15.95
Product#: Thompson1-CD
Format: CD
Released: 2005
Label: Thompson Bible Institute, Bellevue, OH
Description: Male-Female Duet with Piano And Organ
Total Playing Time: 47:05
---
The message inside the CD cover reads..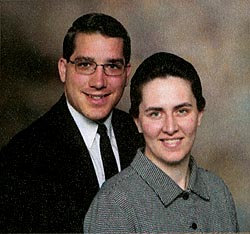 James and Deanna Kahler are enjoying their new son Bradley (and his latest antics!) and laboring in community outreach through James' role of assistant pastor at Thompson Chapel, in Bellevue, OH. The Kahlers are both graduates of Thompson Bible Institute and reside on campus where they contribute to the training of young people for the harvest field. James teaches piano, trumpet, and vocal lessons and manages the business office of the college. He is preparing his second book on the preservation of God's Word. (As of 2005)
Biographical sketch of Fanny J Crosby
The words of all the hymns on this CD come from the same heart--the heart of Fanny J Crosby (1820-1915). Probably the most prolific hymn writer in history, Crosby authored over 8,000 hymns. Brought to the masses largely through the ministry of Dwight L. Moody and Ira D Sankey. These simple, sentimental, evangelistic hymns became incredibly popular and continue to remain favorites of Christians throughout the world.
Blinded in her infancy, Fanny was sent to the New York Institute for the Blind where she spent 23 years (1835-1858) as a student and instructor, forging life-long relationships, meeting dignitaries, and writing poetry. It was while at the Institute that Fanny attended a revival in which she sought the Lord and, on November 20, 1850, found the peace and joy she had craved. Fanny's "November Experience" profoundly affected her hymns and is an event she frequently alluded to.
On March 5, 1858, Fanny married Alexander Van Alstine, a fellow blind instructor at the institute. Although almost nothing is known about their married life, Fanny and Van (as he was called) shared a mutual love of music and poetry. A child was born the following year, but evidently died in infancy.
Fanny's hymn-writing began in the 1860's and lasted over 50 years, yet her "hits," with two or three possible exceptions, were written during the first decade of her career. In light of this, eight of the songs included on this CD were written during fanny's first ten years as a hymn writer. And while not all of Fanny's hymns became popular, all shared at least one thing in common: a story behind their writing.
William H Doane, a composer who would set nearly 1,000 of Fanny's hymns to music, once appeared at Fanny's place with a tune, wondering if it "said" anything to her. After hearing it only once, Fanny exclaimed, "Why, that says, 'Safe In The Arms Of Jesus!'" Within a half hour, the words to the song were finished, and it could be added, always filled a special place in Fanny's heart, possibly soothing the ache left by the loss of her very own child. When consoling grieving mothers, Fanny would often say, "Remember, my dear, your darling cherub is 'safe in the arms of Jesus.'" Some years later, Fanny had the privilege of playing this hymn at the funeral of President Grant.
For 25 years, Fanny faithfully labored (often several days a week) among the derelicts who lived at several of the rescue missions in New York City. Her experiences helped to form not a few hymns such as "Pass Me Not" and "Rescue The Perishing."
After addressing a large company of working men one hot August, Fanny asked if their was any boy present who had wandered away from his mother's teaching and would come forward at the end of the service. A young man made his way through the crowd asking, "Did you mean me? I have promised my mother to meet her in heaven; but as I am now living, that will be impossible." After praying, the young man arose with a new light in his eyes. Later that night the words come to Fanny, "Rescue the perishing, care for the dying."
One of the songs written later in the life of Fanny Crosby was "Saved By Grace." Fanny referred to this piece as her "heart song." A personal favorite of both Moody and Sankey, and aged Moody was often seen listening to this song with a far-off look in his eyes and tears running down his cheeks. He especially enjoyed having the choir sing the phrase "and I shall see him face to face" with the audience responding "and tell the story saved by grace." Incidentally, "Saved By Grace" was the final song on Sankey's lips before he died.
More than anything else, Fanny Crosby desired to lead individuals to Christ by her hymns. Through her intimate knowledge of the Bible and poetic prowess, millions on every continent of the world have been brought face to face with a wonderful, compassionate, loving, saving Christ.
---