Erin Cross -- Turn Your Eyes Upon Jesus
---
About Erin Cross:
Hello, My name is Erin Cross...I was saved when I was about 12 years old, and I was home-schooled for most of my school years. The Lord used a Bible teacher on a home school video program, that I was using at the time, to show me my need for Him. The Lord convicted and showed me that I was a sinner, and that I was lost without Him. He also showed me my need to confess and repent of my sins and to trust in the blood of Jesus as the only way to salvation in Him. I repented of my sins, trusted in the blood of Christ as payment for my sin, and surrendered my life to the Lord Jesus. I now desire to walk with Jesus and to follow Him at any cost in my life.
Since I have been born again, the Lord has been faithful to lead and guide me in my walk with Him as I look to Him. It is because of what Jesus has done for me in saving my soul, and because He lives in my heart, that I have a reason to play and sing. I desire to honor the Lord with the music that I play and sing. Because of this, I play only sacred music on the harp and other instruments that I play.
I have been playing the harp for 8 years now (as of August 2006). I have played my harps in several weddings, church services, Christian family homes, and assisted living and nursing homes. My desire is to bless and minister to others with the gift that the Lord has given to me. I desire to continue with this harp ministry in the future as well.
...I am the oldest of seven children. I am thankful to have been raised in a Christian home. Our family has attended, for the most part, conservative Baptist churches during my growing up years.
---
The message inside the CD cover reads...
Turn your Eyes Upon Jesus
"Looking unto Jesus, the Author and Finisher of our faith..." Hebrews 12:2.
This recording, "Turn Your Eyes Upon Jesus", has been my dream and desire for many years. The words to this hymn are so precious to me - particularly the chorus which says "Turn your eyes upon Jesus, look full in His wonderful face, and the things of earth will grow strangely dim in the light of His glory and grace." As a Christian, these words are a beautiful reminder of the wonderful, loving Friend and Savior we have in Jesus. These words also compel us to turn our eyes, the eyes of heart, towards Him. In a world that is filled with so much trouble, sin, sorrow, and care, it is so easy to turn the gaze of our "eyes" onto other things. Hardships and trials come; people fail; things change. What a comfort it is to know, that despite all of these "earthly" troubles, "there is a place of quiet rest near to the heart of God" where we can cast "all our anxieties and cares" to Him in prayer. Truly, we do indeed "have a Friend in Jesus", One who bears all of our sins and sorrows and One who remains ever faithful. I pray that the weary pilgrim would find these hymns to be "a rest upon the way", to know the blessed peace of "trusting" and "hiding" in Jesus. I pray that the searching soul would see that there is room for them "beneath the cross of Jesus." My prayer is that this recording would cause all those who hear it to turn their eyes upon Jesus, that the things of earth may grow strangely dim "in the light of His glory and Grace."
Erin Cross
Photo taken in August 2006 of Erin Cross with her 36-string Gothic Harp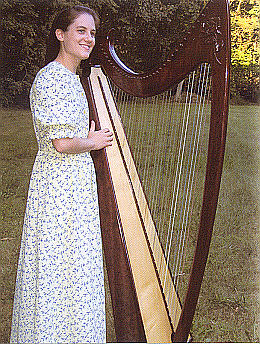 Special thanks to:
My Dad - for purchasing my first harp - a gift I will never forget receiving and is still very special to me
My Mom - for giving us children a love for godly music and encouraging us to play our instruments for the glory of the Lord. I would not be playing harp today if is was not for your love of harp music. The Lord has used you greatly in my life!
My sisters Cheri and Leah - this recording would not have been what it is without all of your love and encouragement to me. I love you both.
Mr. Marini - for handcrafting the beautiful harps that I own.
Mrs. Marini - for your encouragement to me when I first began playing harp. - that even the simplest song played on the harp to the Lord is beautiful and can minister to others.
Dena and Joanna Marini - you girls have been the most inspiring people to me in playing harp and in music. The Lord has used you in a very special way in my life.
My harp teacher, Rachel Ellins Lozzia -- for all the wonderful instruction you gave me. I am so thankful to have had you for a teacher.
Most importantly, to my Lord and Savior Jesus Christ - for helping me to learn to play the harp for His pleasure and glory. He is my reason for playing and singing - because of His love in dying for me and saving my soul through His shed blood. He is the One to Whom all praise is due!
The song "Nearer My God To Thee" is dedicated to a dear friend and inspiring harpist, Dena Marini. Dena played this hymn for me several years ago on a quiet, Sunday afternoon in their home. It was the first time I had ever seen anyone play a harp in person. The music that came from her hands and harp seemed to come from heaven - I sensed the presence of the Lord and company of angels in that room. It was the most beautiful, heavenly music I had ever heard. I knew from that moment, that I too, wanted to play the harp in such a way for others. That is a treasured memory I will never forget.
---