Dena And Joanna Marini -- Christmas Carols On The Harp
---
My Comments: These people play music on the same harps that are made by their family. Their family makes their living building harps. Each harp they build is "hand crafted" and "custom made". The two oldest daughters, Dena and Joanna Marini, go to many different churches in their local region playing their harps. The younger members of their family also take part in their concerts by playing other instruments they are good at.
I found out about these recordings when their mother mailed me all of their current CD titles as "air play submissions" for Old Christian Radio. After hearing all their recordings, I decided to add all of them to my station's air play library. From there, I made these recordings available for purchase in my online music store. Until now, these recordings were only available for purchase at their concerts, by mail directly from them, or only from local bookstores where they live.
As you listen to their recordings (oldest to newest), you'll notice progressive improvement in their harp playing skills. Their harp playing skills in their earlier recordings are still very good.
---
The message inside the CD cover reads...
"Good Christian Men Rejoice!" ...in a day when the world rejoices in presents, parties, vacations, and decorations, the carols of Christmas call us to rejoice in the birth of Emmanuel (God With Us)
"Joy To The World, the Lord Is Come!".
The carols proclaim why He came: to "ransom captive Israel, free Thine own from Satan's tyranny, from depths of hell, Thy people save and give them victory o'er the grave"
The carols proclaim how He gave victory: "Nails, spear, shall pierce Him through, The Cross be borne, for me, for you."
The carols proclaim the results: "Peace on earth and mercy mild, God and sinners reconciled."

"O come let us adore Him, Christ the Lord"

--Alex Marini
"Christmas Carols On The Harp" was originally recorded in 1998 and re-mastered in 2000 to include three new arrangements (as noted above at the song list.)
---
Dena and Joanna, now 14 and 12 years old, continue to develop their harp skills as part of their home school program. Their father, continuing to develop his skill in harp building, made the girls a 26, 31, and 36-string lever harp, psaltery, and bowed psaltery (all of which are represented on this recording). The arrangements are their own, developed under the guidance of their dedicated tutor, Joyce Hershey, of Lancaster, PA.
In this recording, Dena and Joanna join the "angels bending near the earth to touch their harps of gold." May these Christmas Carols bring us comfort and joy as we... "Remember Christ our Saviour was born on Christmas Day, To save us all from Satan's power when we were gone astray."
Dena And Joanna Marini (As pictured on the back of the CD cover)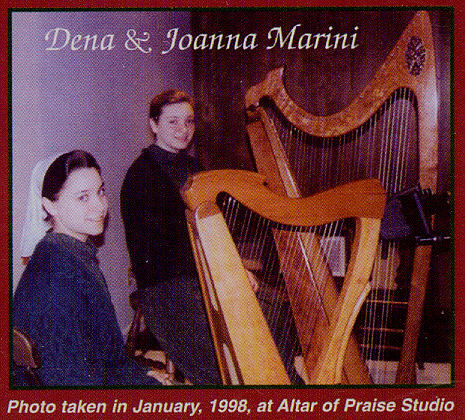 ---